As the Winter Olympics come to a close, a group of catastrophically injured rugby players will take part in an adapted skiing course this March on the slopes of Andorra as part of the new IPF Engage Programme.
One thing that's evident with most IPF clients is their sporting mentality. No matter what restrictions their rugby injury has caused, they share a desire to be active and involved.
The charity has seized that aspiration and now the IPF Engage Programme is using sport-related activities to maximise the physical and social potential of injured rugby players.
Through physical or socially challenging activities like adapted rock climbing, sailing, and skiing the IPF is enabling a group of injured rugby players to become team mates facing a shared challenge, breaking down personal barriers, building confidence, and changing perceptions of what they can achieve. The aim is also for the group to build a lasting camaraderie and use the experience to work towards becoming as independent as possible.
But how does a catastrophically injured player, maybe reliant on a wheelchair, take to the Andorran slopes?
Today's technology has brought adaptations, from skiing one-armed to sitting skiing, either self-propelled or with a buddy behind on skis. And the IPF has already provided para-skiing taster sessions at dry slopes and snowdomes across England so that the players can sample either skiing independently or with assistance.
With the feedback overwhelmingly positive, the inaugural IPF Engage Programme ski course in Andorra was organised and is now heavily oversubscribed, with a waiting list in place.
Tamara Johnson was at a taster session at Tamworth Snowdome and said "I've done handcycling, table tennis, and archery before, but they didn't compare to rugby in terms of the excitement and the thrilling nature of the game. I was intrigued to give this a go as I really enjoy learning new skills.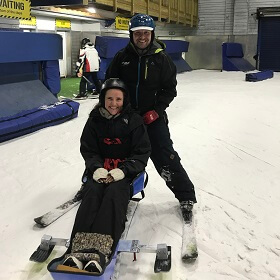 "I approached the taster session with the attitude that you lose nothing by trying, and I absolutely loved it! I love the speed of decision making in both skiing and rugby. Having the one to one support at the session meant I could take it at my own pace and get comfortable using the bi-ski. It wasn't long before I was trying to work out the fastest routes down the slope with the instructor. I wasn't scared at all and, apparently, I took to it quite naturally!
Duncan Campbell's taster session was at Hemel Hempstead Snowdome and he said: "I love learning new things, getting accomplished and becoming more independent so this was a fantastic experience and a really good thing to do now that I can't play rugby anymore.
"I'd never skied before, so I was a little worried about how I would manage and what special kit I'd need as I can't use my left arm due to my rugby injury. However, James the instructor was amazing and got me skiing standing up with one pole in no time at all. I fell over the first few times, but after a bit of practice and some more tuition I was going down the slopes slowly on my own.
"In skiing you have to concentrate 100% of the time on the slopes and you get the same great buzz as I did from playing rugby. I can't wait to go out to Andorra with the group of other injured players, learn how to turn and how to stop so I can hopefully progress to the stage when I can go down on my own. I'm so happy and grateful to be involved in this."
Both Tamara & Duncan have also been spurred on by the taster session to get more involved in skiing.
Said Tamara: "Since the taster session in November I've also organised my own ski lessons at the Snowdome and have done about 20 hours' extra practice. I can't wait for the course in Andorra. The combination of skiing and some new ski-inspired physio has improved my balance and core strength, which is great."
Duncan added: "I'm considering taking up skiing after the course if possible to keep fit and active. It will be a long trip to the nearest snowdome in England but definitely worth it."
But given the date of the trip, will they find the time to watch the England v Ireland match with the other injured players while in Andorra or will they would be out on the slopes?
No prizes for guessing! Duncan had a typical ex-rugby player's response:"You've got to get your priorities straight, so we've already got something sorted to watch the game together as a group and to support the team. I'm really looking forward to getting to know the other injured players and hopefully an England win will be a great way to bring us all together."
With that determination, maybe an injured rugby player will be representing Team GB at the Winter Games in Beijing 2022!
To discover more about the Injured Players Foundation and how you can support the charity or get involved in the IPF Engage Programme, visit their website www.rfuipf.org.uk for more information.