The IPF will be match day charity for the England v Wales game on Saturday 10th February and we need your help to raise awareness of the charity with the rugby community and to support catastrophically injured players.
On the day you'll see the IPF logo in a number of places around the stadium, on the big screen and on in the West Fan Village. We need YOU to help us tell us many people about the charity's work and encourage them to get involved to make a difference.
Social Media
On Social Media, please follow the charity on Twitter @TheRugbyCharity, on Facebook @RFUIPF, and on Instagram @rfuipf and show your support by posting your photos using the hashtags #RFUIPF #rugbyfamily & #ENGvWAL. Send us photos of how you're watching the match or how you are supporting the IPF! Encourage friends, family, and all of your rugby contacts to follow us on Twitter & Instagram to show their support too! As an added incentive all followers will have the chance to win a match-used ball signed by both team captains from the England v Wales NatWest 6 Nations match Saturday too.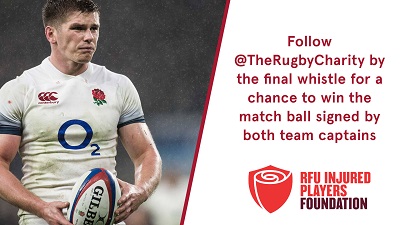 At Twickenham
If you are coming to Twickenham for the match please show your support for our amazing volunteers who will be collecting donations around the ground on the day. Every donation makes a difference and it's true that every penny really counts!
Also look out for the IPF cut-out frames that will be in the West Fan Village before the match and either pose for a photo to show your support or post it online to show all of your contacts your support for injured players and the IPF!
To find out more or to speak to a member of the IPF Team about anything above or the charity in general, please Get in Touch and the Events & Fundraising Team will be happy to help you get involved.