To launch his biography, one of rugby's most iconic players, Budge Rogers OBE, will be holding a book signing at Twickenham Stadium before the New Zealand v Barbarians match, with £1 from every copy sold donated to the IPF by Pitch Publishing.
The former England captain and RFU President will be signing copies of his new biography 'Budge Rogers: A Rugby Life', in Twickenham Stadium's South Stand Rugby Store from 12:00pm to 1:30pm on Saturday 4th November, before kick-off of New Zealand v Barbarians kicks of to celebrate the NZRFU's 125th anniversary.
All copies sold in the Rugby Store and online through www.englandrugbystore.com will also include the £1 donation from the book's publisher, Pitch Publishing, in support of the RFU Injured Players Foundation.
The book would be a popular Christmas present for any rugby fan, while helping to support catastrophically injured rugby players and vital injury prevention research.
We spoke to Budge recently to discover more about why he is supporting the IPF, and what his book has in store.
Q: So Budge, why did you choose to support the IPF?
A: "I've seen injuries happen in rugby, and I know the Injured Players Foundation can provide incredible support for players at every level of the game in England. For grass roots players especially, the support the charity can provide is of huge benefit in the rare event that an accident happens on the pitch and a player suffers a catastrophic injury.
"I was involved in a game when a team mate of mine, Danny Hearn, sustained a catastrophic injury playing for the Midlands Counties XV against the All Blacks at Leicester in October 1967. Danny was a centre and we both played at Bedford as well as with the Midlands Counties. He went into a collision during the game with a much larger All Black player, I was actually the first to him when it happened and he was lying on the ground. Looking back thankfully I didn't try to turn him over as normally happened back then as it could have made things much worse for him. We didn't know the extent of the injury at the time, we just saw him carried off. It was only after the game that we found out how serious it was, and that it would completely change his life. Danny continued as a school master and continued to coach the 1st XV at Haileybury School, he taught one of my boys too, and we keep in touch every now and then.
Q: What can rugby fans expect from your book?
A: " I met the author through a friend who told him he should do a book with me as I had so many stories to tell. We spent a lot of time together over a number of months going through old scrapbooks from my playing days, and talking through many of my recollections. We covered everything from when I started playing rugby at Bedford school aged 11, through to my time with Bedford RFC, England, the Barbarians and the Lions, through to when I was RFU President.
"I'm really proud of the book. It's not just me telling my story, as the author I worked with, Dr. Philip Stevens, keeps it flowing so it's an easy and interesting read, and he's included his own thoughts and analysis as well which is great.
"I like to think the book encapsulates what the game was like in those days. It was amateurish both in financial and in application terms. For example, the England team training sessions were completely unsupervised, there was no Head Coach like today with Eddie Jones, the England captain ran the training sessions for the entire team. I hope if anything my love for the game comes through and that it provides an interesting insight into the amateur days. I'm still amazed how much I remembered!"
Q. You famously toured with both the British & Irish Lions and the Barbarians, captained England for 7 times, as well as playing for Bedford RFC. What was your greatest moment in rugby?
A: "It's really difficult to name just one, there were so many great moments. Getting picked is definitely up there! I remember I found out by reading the Evening Standard at Angel tube station. Stop Press! England v Ireland, my name there on the team sheet. It was a really good game too. As it was my first cap I don't think you ever forget that game. I scored a try as well, and I didn't end up scoring many more for the next few years!
"I'll also never forget the win in Wales on the ice in 1963. There hadn't been any rugby played in weeks so we were having to train in a gym as the pitches were unplayable. We would have won the Grand Slam that year had it not been for a draw with Ireland. It took England another 28 years to beat Wales in Cardiff again in 1991,so it was pretty special to win that game!
"My first Test for the Lions was also really special and a great memory. The Lions is so different now, back then Arthur Smith was our captain and he led all the training sessions. We didn't have a coach, we just had a Tour Manager and Assistant Manager who organised all the logistics of touring. We had 24 games on a tour too, and were away from home for three and a half months with a squad of only 30 players. It was so different, but I'm sure no less enjoyable than he modern Lions tours still are."
Q. Looking back at time as Chairman of Selectors and RFU President, how did you find the transition from the amateur game to the professional era?
A. "When I was Chairman of Selectors it was still fully amateur. There were rumblings and early signs that professionalism was on the way, with some of the England players being signed up for boot sponsorships, but professionalism was driven forward from the Southern Hemisphere, Kerry Packer signed up so many players that something was always going to change. The RFU was slow to react to professionalism, it was really difficult back then with the threat of a player strike and it took many years to get the right relationship between the clubs and the union in place."
Q. Finally, looking at the work of the Injured Players Foundation, how important do you feel the work the charity carries out is to rugby union in England?
A: "The charity's work is vitally important and we need the charity to continue this and do more. The safety net the charity offers for anyone who sustains a catastrophic injury playing the game is invaluable, as is the support they offer to injured players' families, friends, and rugby clubs when a rare tragic accident happens.
"It is also so important that the IPF continues to invest in injury prevention research so that we can work to prevent injuries occurring in the first place and to protect everyone who plays rugby. Publicity around rugby injuries is growing and I hope the Foundation and its great work can be more incorporated into this so we can all give them as much support as possible."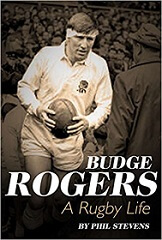 'Budge Rogers: A Rugby Life' is available to purchase now, RRP £17.99
The RFU Injured Players Foundation would like to thank Budge Rogers, Dr Philip Stevens (author), Fanatics, and Pitch Publishing for their generous support.